Tony's Textiles is a family-run business with
a loyal customer base.
Having taken the plunge and entered the competitive world of online retail, the company had some success on well known marketplaces such as Amazon and eBay, but felt that these channels were growing faster than their own website.
With a growing sense of frustration at slower than expected growth in website sales, Bill and the Tony's Textiles team decided that "a change was needed". We were called in to 'pull the curtains' and help Tony's Textiles Think Big... Together we identified 6 areas that needed a little extra attention:
So this is what we did:
1. Visual Facelift
The first step was to give the site a visual facelift, with a new modern redesign that laid out the products in a way that makes it easy for the customer to navigate.
2. Custom CMS Platform
The website was also transferred over to our custom all-in-one Content Management System (CMS) and Order Management platform, Springboard. This helped Tony's Textiles keep on top of their orders and transactions and significantly optimise the process of selling online.
3. Pay per Click
We revamped their Pay Per Click search advertising campaigns on Google and Bing in order to draw customers to the new website. New Pay Per Click search advertising campaigns were set up on Google and Bing, while the website continues to be optimised for search engines. Just six months after the launch in March 2015, sales via the Tony's Textiles website were up 63%.
4. Newsletters
Regular newsletters are sent out to the Tony's Textiles customer database, with frequent offers and discounts encouraging repeat custom. This has helped create a loyal customer base that actively engage with the content sent out every week. Every newsletter has a custom design created by our design & marketing teams in order to optimise conversions and encourage interaction. Their customer base grew significantly as a result of sending out regular updates & offers.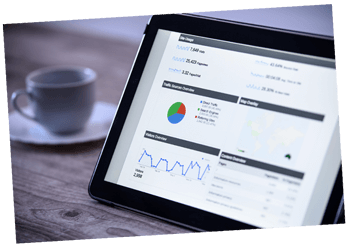 5. SEO
Using a range of on and off-site SEO techniques we improved the website's standing on Google and helped it rank higher in the search results.
6. Social Media
We created a brand voice that customers can identify with and increased social interaction with the Tony's Textiles customer base.
6 months down the line sales via the new website increased by 63%, while advertising costs went down.
Tony's Textiles decided to
Think Big!